This journal, I'm challenging myself to avoid setting concrete themes for the months. Instead, I'm focusing instead on colors and patterns. It's kind of a fun change, and also harder than I expected. For my August 2021 spreads, I started with the blue and black color scheme, and everything just kind of flowed from there.
August 2021 Monthly Spread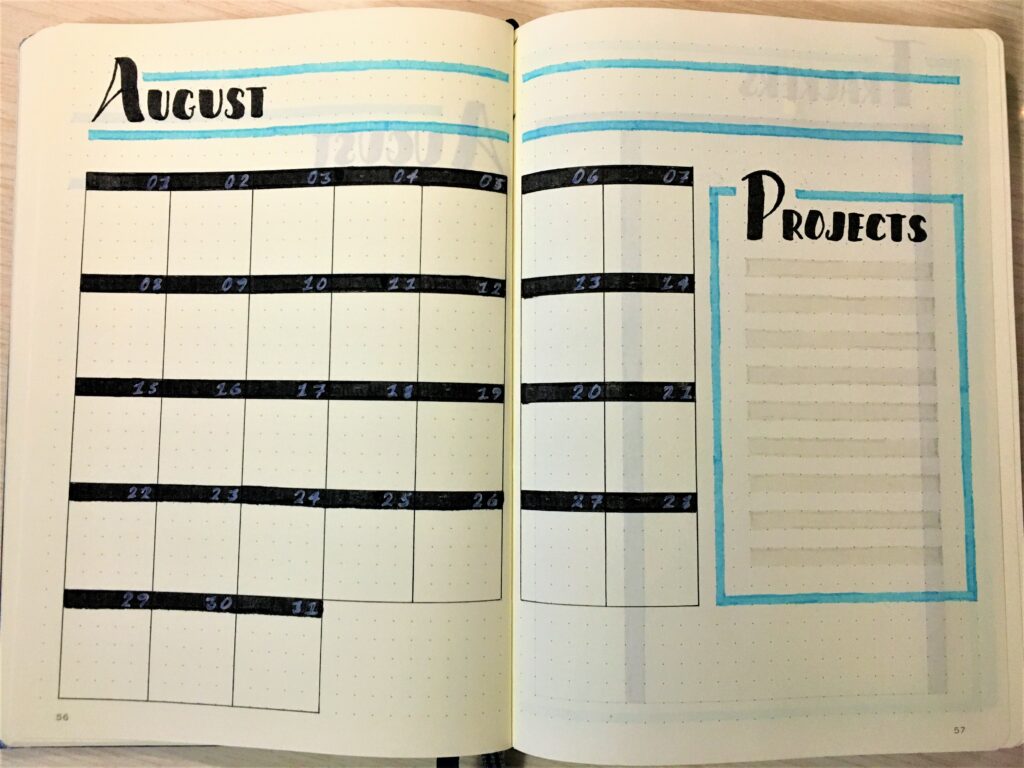 I'm keeping things fairly simple this month, with clean lines and white space. And I absolutely love this color combination. It makes me feel refreshed and calm, which is something I always anticipate needing in August. Even though I'm no longer working in academic settings, I still think of August as the start of a new season/semester, so it always feels both exciting and a little daunting.
August 2021 Habit Trackers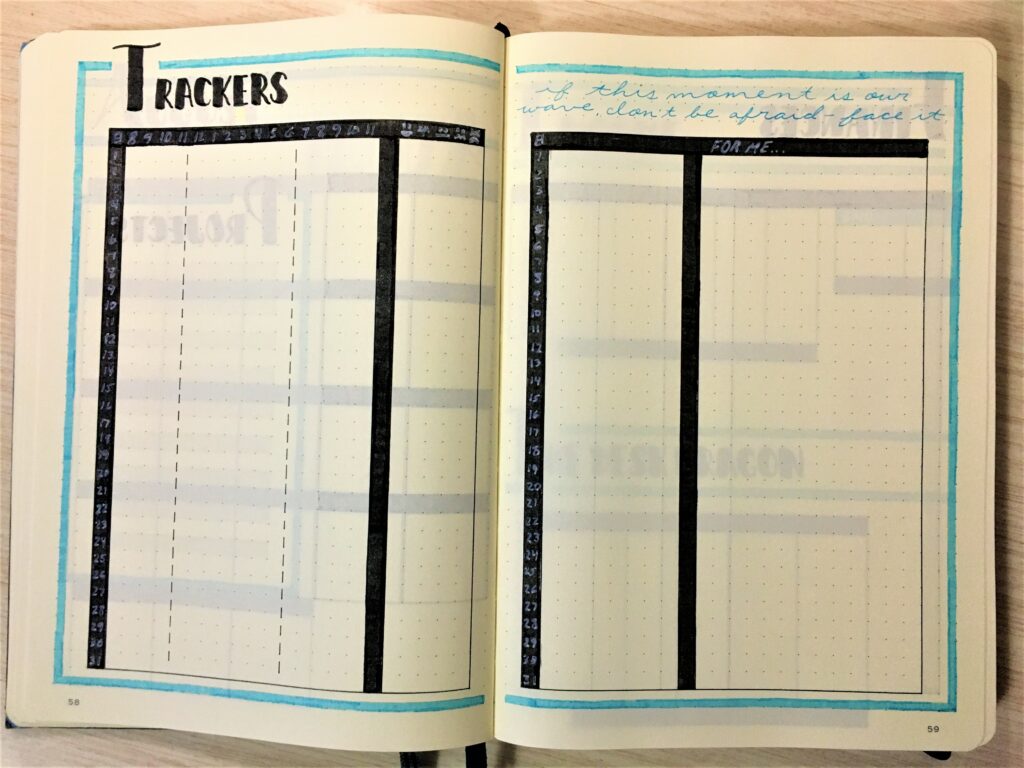 I've decided to start putting the monthly quote on my habit tracker page instead of the cover page, because I found I rarely looked back at the cover page each month. I use these pages on a daily basis, multiple times a day, so it makes sense to put words of encouragement here.
Even though I'm intentionally not choosing a concrete theme, the blue makes me think of the ocean, and I couldn't help choosing an ocean-themed quote for this page. The quote I chose is a song lyric from K-pop group ATEEZ. (You might remember that their music inspired my bullet journal for the second half of last year.)
This song is refreshing and calming — a lot like this color scheme. Definitely give it a listen!
Side note: I forgot to mention it in my last bullet journal post, but for July, I chose this quote: "Whatever makes you feel the sun from the inside out — chase that." (Gemma Troy)
Finance Pages
I thought about changing up these pages for the new journal, but in the end, I kept them pretty similar to what I've been doing. It's better to stick with what I'm used to, because it's easy and makes sense. And that's the whole purpose of a bullet journal — to make things easier and makes sense out of the chaos of planning. I did remove a few redundant fields, though, and adjusted the size of others.
---
How's your August planning looking? Are you ready for the new month and/or season? I'd love to hear from you.
Did you know?
I offer writing & editing, podcast production, and virtual admin services.
Click here to see how I can help you get more time back in your day!