In my part of the world, it's probably going to be hot for a while yet. But fall officially starts later this month, and pumpkin spice is back at Starbucks (along with the fabulous new Apple Crisp Macchiato!), so I decided to go full steam ahead with a fall bullet journal for September.
September Cover Page & Monthly Calendar Spread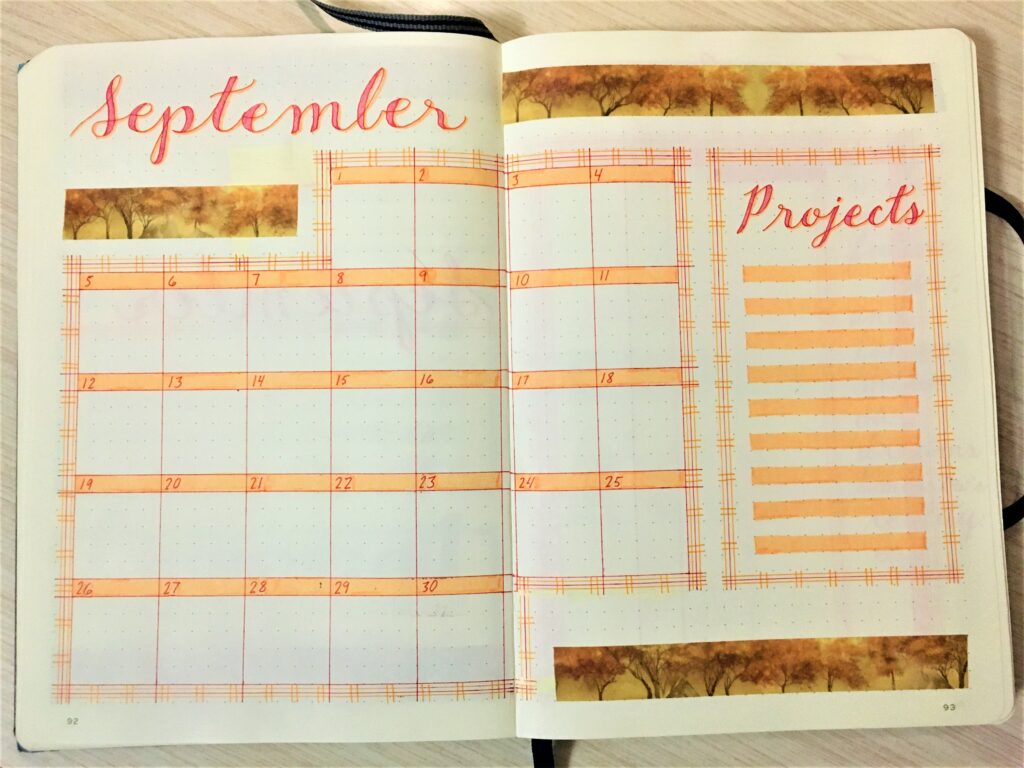 For September, I went with a color scheme that reminds me of fall. Since I'm focusing more on patterns instead of specific themes for this journal, I played around with the colors (and the fall idea) and landed on this plaid-like pattern. Then I added washi tape with fall trees to complete the fall bullet journal look.
If my spreads last month were clean and spacious, September's are almost crowded — but I'd prefer to call them cozy.
Fall Bullet Journal Habit Trackers
Next I have my habit trackers. The left-hand side of my trackers page usually stays pretty much the same, because why change something that really works? (And this time I forgot to take the picture before I had started filling out the first day. So you can see a bit of how I fill in the sleep, mood, and daily habit sections.)
On the right-hand side, I like to keep the daily habits the same and switch up the "extra" habit tracker. Last month I recorded something I did each day that was specifically for myself. This month, I decided to write down something new that I learn each day, because September still reminds me of a new school year beginning.
I also have a quote here:
Keeping this quote next to my habit trackers reminds me to try to do just a little bit each day to work toward my bigger goals.
August Month in Review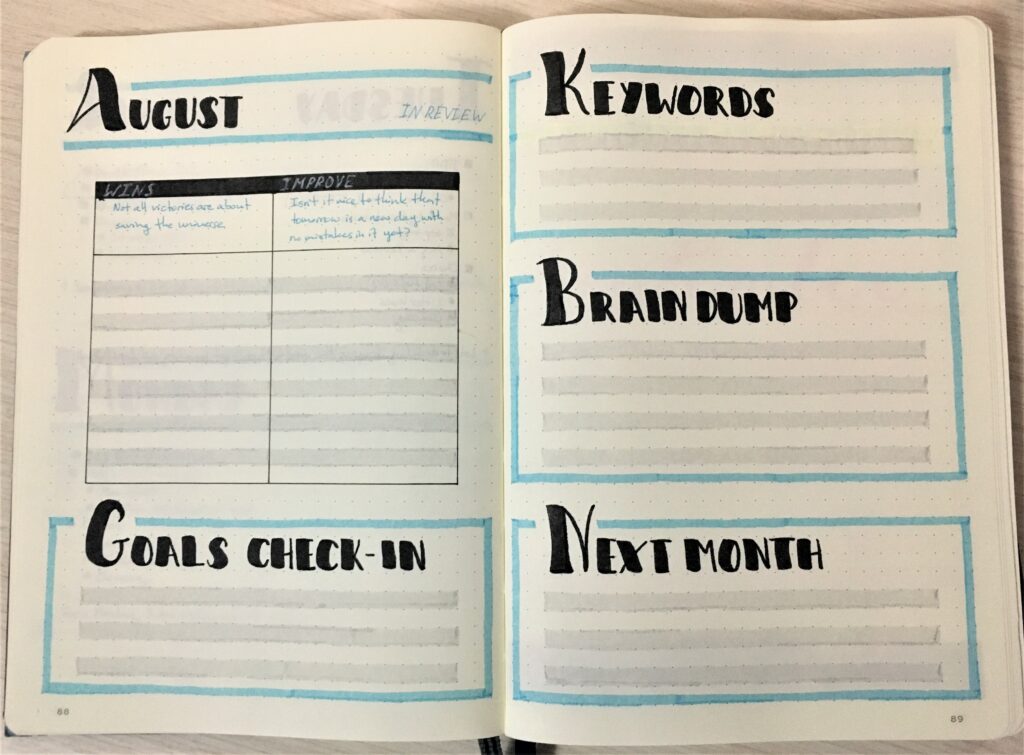 I don't normally include my monthly review pages in these posts, but I've changed up some of the sections recently. Plus, I really liked how the spread looked in these colors.
Right now I have five main sections of my monthly review:
Wins & Improve: a list of everything — big or small — that I've accomplished that month, and a list of the things I want to work on improving in the coming month.
Goals Check-In: a few sentences about the progress I've made toward my monthly and 6-month goals.
Keywords: a list of words or phrases that have defined the month (e.g., songs I've listened to a lot, big events, topics I've thought a lot about, etc.)
Brain Dump: Anything that's on my mind as I transition to the new month.
Next Month: a list of the events and projects I know are coming up in the new month.
These monthly reviews have proved invaluable in helping me keep on track with my goals and be ready to start fresh in every new month.
Did you know?
I offer writing & editing, podcast production, and virtual admin services.
Click here to see how I can help you get more time back in your day!