Setting Up My Bullet Journal with a Lunar New Year Theme for February
February is an interesting month for me now. After living in China for four years, the beginning of a new year feels a bit more spread out than it used to. The school year there always extended into the first week or so of January, and winter break was structured around Lunar New Year, which meant that a new school year wouldn't start until February or sometimes March. So February feels a little like another new start for the year. As such, I thought it fitting to try out a Lunar New Year theme in my February bullet journal spreads.
Bullet Journal Lunar New Year Theme & Cover Page
For this theme, I took some inspiration from YouTuber Amanda Rach Lee, but I also thought about Lunar New Year (also known in China as Spring Festival) celebrations that I experienced while I lived there.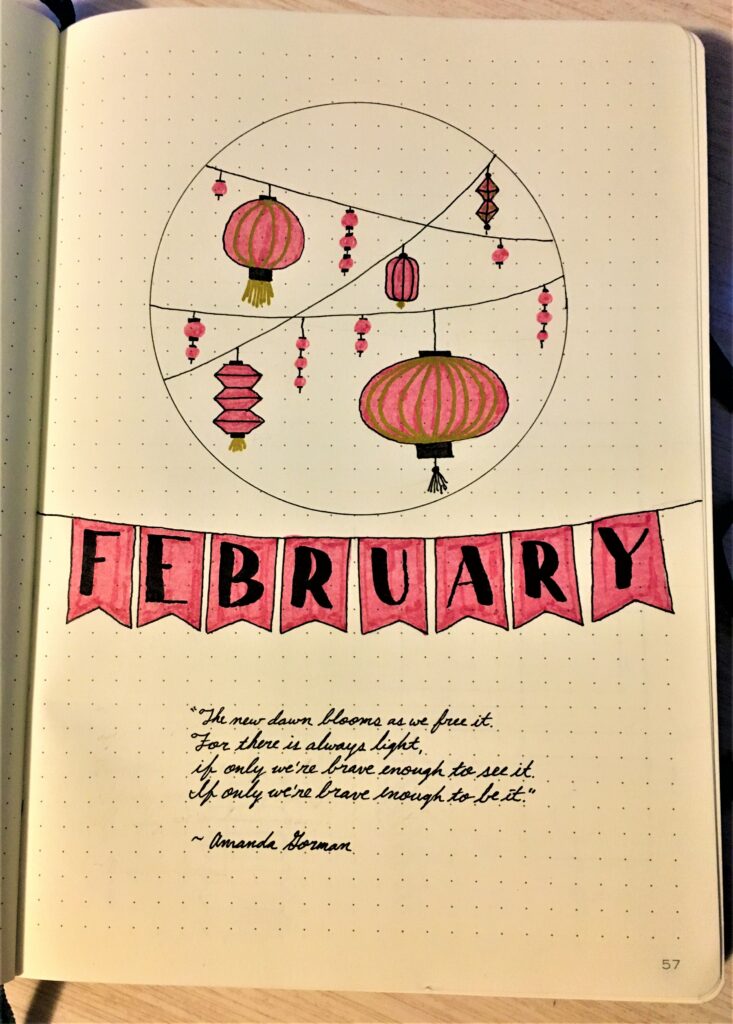 For the title page quote, I chose the last few lines of Amanda Gorman's poem from the 2021 US Presidential Inauguration, "The Hill We Climb":
I found her words so inspiring and uplifting, and perfectly fitting for a new, fresh start. That's exactly what I want for every new month, as well as every year. And the lanterns tie in the idea of light, too.
February Monthly Calendar Spread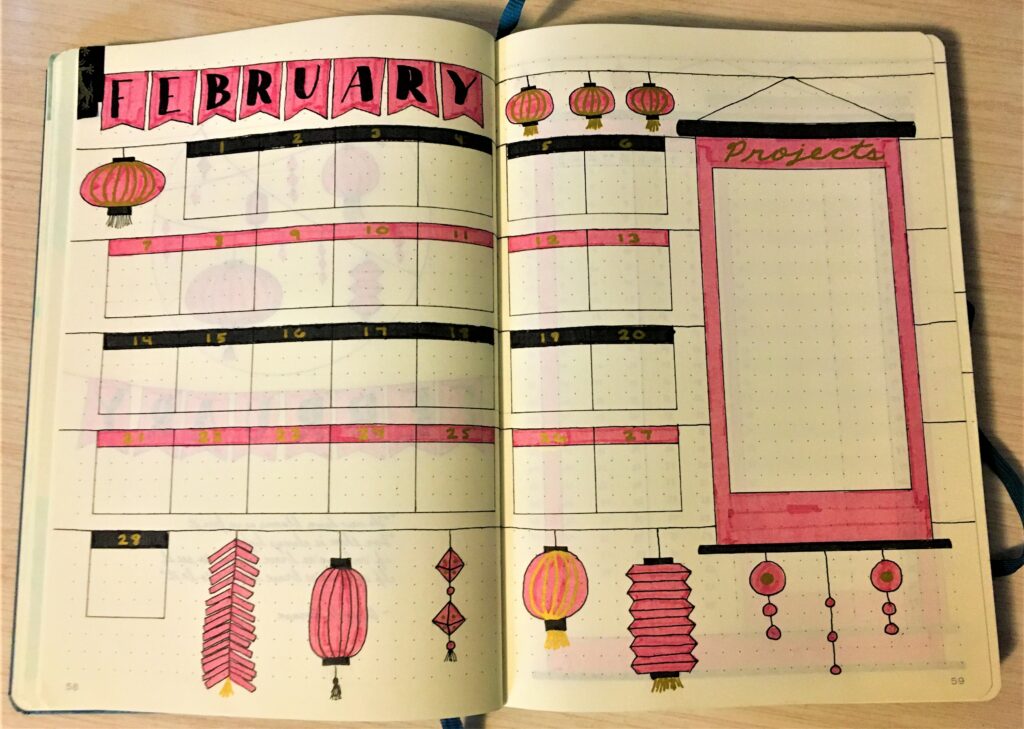 For this layout, I thought it would be fun to make the calendar days appear to be flags strung up along with the lanterns, and I added a scroll section for monthly projects.
I mentioned last month that this is the first bullet journal in which I haven't tried to squeeze in my habit trackers on the same spread as the calendar. I'm really enjoying having the extra space to spread things out and be more creative with designs.
February Trackers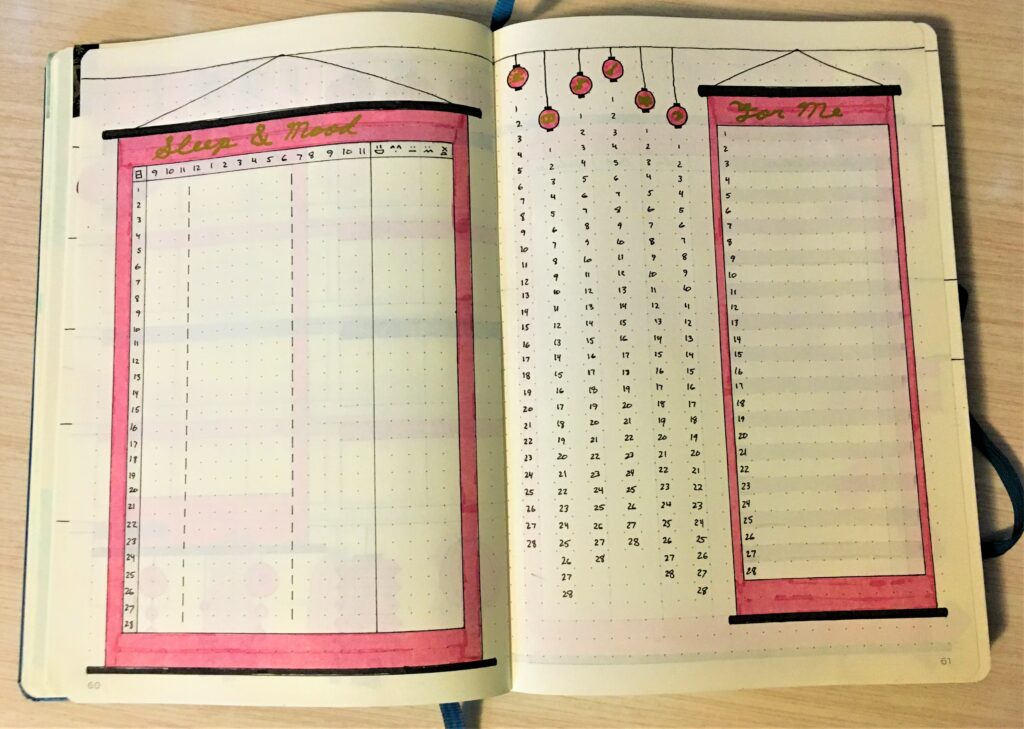 Like last month, I'm tracking hours slept, my mood, and daily habits. I'm not sure exactly how it will turn out, but I had this idea to set up the daily habit trackers as vertical strings of lights. So each day that I complete the habit, I'll color in a circle on top of that date, and connect it to the ones above it. Any days I miss will become longer sections of "string" connecting the colored-in circles.
This month, I've been writing down something new I've learned at the end of each day. For February, I decided to change that section up, and as you can see, I'm calling it "For Me." I've seen a few other people put a bit of a spin on Valentine's Day by making February spreads that have to do with self-love or self-care, and I like the idea a lot. So for each day in February, I'll be writing down something nice that I do for myself, no matter how small or simple.
February Finance Pages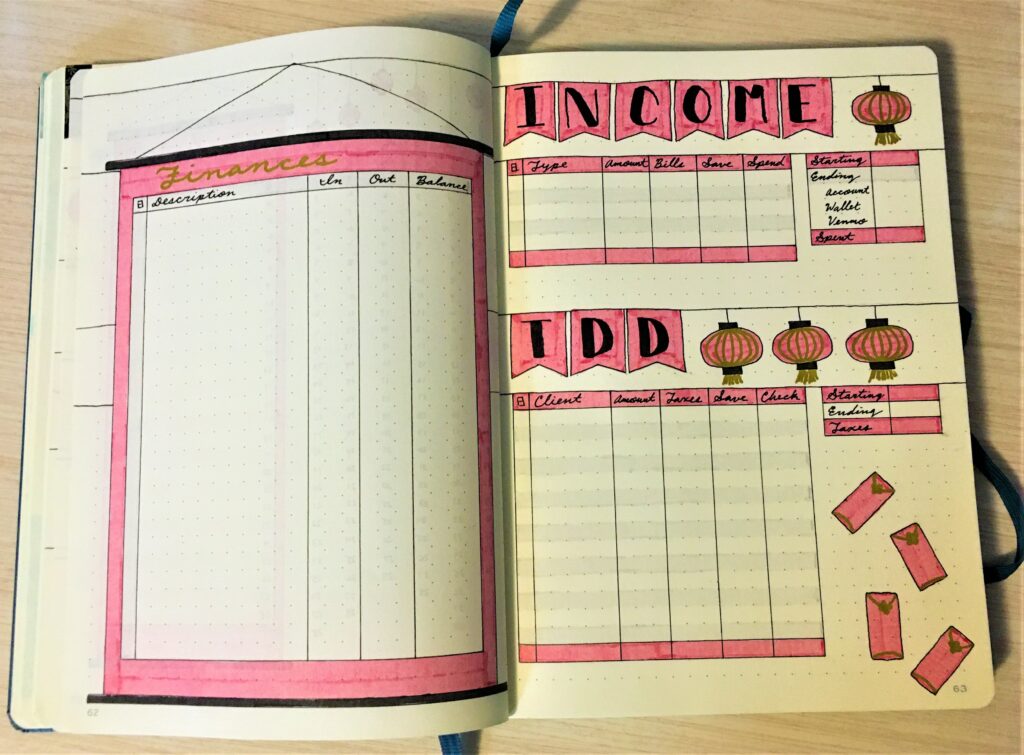 Finally, I have my February finance pages. As usual, I'm tracking spending and income, as well as finances related to my business.
In addition to the lanterns and other "hanging" pieces in this spread, I added some red envelopes in the bottom right corner. In China, parents fill these with money and give them to their children on New Year. So as soon as I chose this month's theme, I knew I had to include them in my finance page.
---
I'm not sure if I will continue the overall theme of new beginnings for all of my monthly layouts in this journal, but I really like the idea, so I might. How do you remind yourself to start fresh every month?